Top 10 Places to Eat in Airlie Beach
Airlie Beach is home to dozens of dining options to suit every budget and taste. With a wealth of choices, it can be difficult to pick the best options during your stay in the Whitsundays. As locals of 15 years, we've tried every restaurant in the region, and have compiled a list of our top ten picks based on our favourites. Bon Appetit!


If dining in style is your bag, you cannot go past the exquisite fresh seafood experience that Fish D'vine is renowned for! With award-winning cuisine, waterfront views and a team of creative chefs that never fail to keep it funky and fresh, this joint is literally divine. For a modern spin on the ever-tasty fresh regional seafood, try the Squid Ink Fettucine, paired with a personalised rum cocktail concoction! The talented bartenders at Fish D'vine will work their alchemy-alcohol magic and find a unique cocktail to match your tastes and meal pairing in a heartbeat!


Complete with panoramic ocean views of the glistening water and Airlie Beach's CBD, you can unwind with dreamy outlooks at the Deck Restaurant & Bar! Renowned for their scrumptious sharing platters, simple yet divine menu and delectable drinks, the Deck will have you feeling like you are truly on holiday as you watch the sunset over a mojito!


Located on the dreamy Coral Sea Marina, Sorrento Restaraunt is a charming Italian spot perfect for a decadent, homey meal! Gaze out as the boats cruise in and out of the Marina while you enjoy delicious food amongst great company. With delightful service, fantastic food and an authentic dockside vibe, you can't go past Sorrentos!


For Asian cuisine with a funky twist, Cool LaLa is the place to be! Hidden away in the alleyway between the lagoon and main street, this spot is a hidden gem not to be missed! Renowned for their insanely tasty dim-sum, fun bubble teas and variety of Chinese-inspired dishes, Cool LaLa is a fantastic choice for anyone after some modern yet casual and fulfilling dining!


An absolute hidden gem overlooking the Airlie Lagoon, The Red Plate is a Korean fusion restaurant boasting colour decor, lovely staff and a unique selection of tastebud-tickling dishes. Their all-new menu features a Savoury Kimchi Pancake, Korean Fried Chicken and our personal favourite, the Sizzling Bibimbap! Pair your vibrant feast with a daring cocktail or an authentic Korean soju for a delectable dining experience


An essential stop by for a morning coffee and avo on toast, Sidewalk is trendy and affordable! Service with a smile is ensured as you receive your takeaway or dine-in Cappucino. Located along main street, guests can beachfront views and some simply great food. Also open for lunch, dinner and sunset drinks, this eclectic spot is an absolute must-do while you're in Airlie!


Just across from the Airlie Beach Hotel, the Pub is a playground for travellers, chock-a-block with good times, a family-friendly atmosphere and live music! With a funky, casual outdoor bar, you enjoy a cold one under the stars as the tantalising acoustic tunes accompany your evening. Check out their new, extended menu for a night of fun, laughter and great food!


The perfect spot for a tasty cocktail and maybe even a girls night, Breeze Bar will have you feeling fine! On the corner of the Esplanade and main street, Breeze Bar is renowned for its luxe vibes and espresso martinis. Order an antipasto platter and enjoy the afternoon hues amongst good company as you set your watch to island time and watch your worries float away in the breeze!


Live it up at the Coral Sea Resort's newly refurbished Pool Club and Bar, The Rocks! Feel like a celebrity as you lounge by the beachside pool with a funky cocktail and selection of taste sensation snacks! Your exclusive Pool Club Pass will afford you $40 to spend on food and drinks, as well as unlimited poolside lounging! We can't go past the octopus doughnuts and antipasto platter, the perfect accompaniment to your luxury, sunset cocktail sesh!


Head on up to Paradiso Rooftop Restaurant & Bar where you will find sensational tapas, cocktails of utter alchemy and sun-soaked bayside views! Delight in a cocktail (or two!) that combines science and creativity to ensure an absolutely perfect balance of flavours. Our favourites include the zesty Lemon Brulee and the Fiery Fijian… which literally comes out in flames! Combined with trendy decor and an alfresco vibe, Paradiso will undoubtedly make you feel as if you're in paradise!
---
With so many taste sensations at your fingertips, you will be full of fresh, local food in no time!
Once you have satisfied your tastebuds, satisfy your adventure cravings with a luxury trip out to the Whitsunday Islands. Check out our variety of tours, here!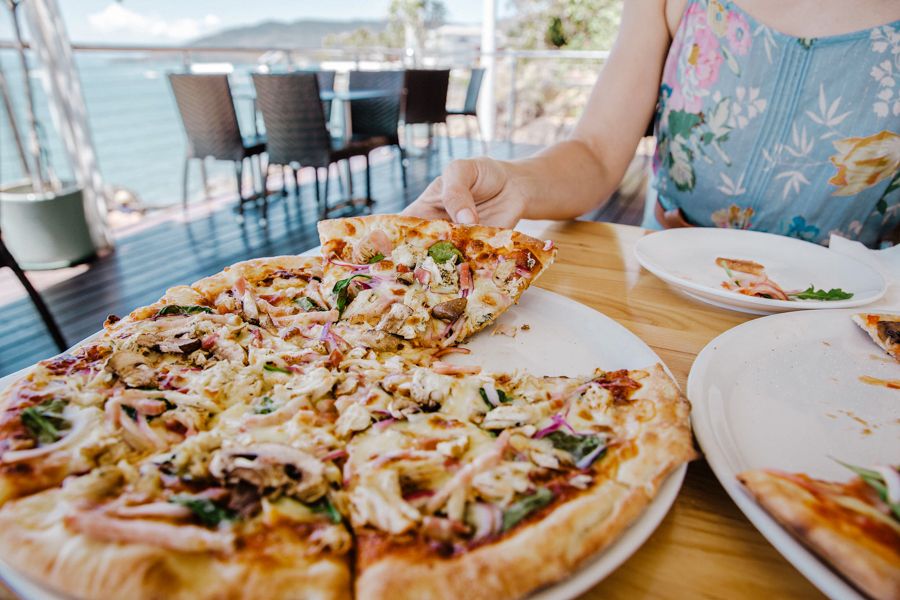 Updated 24/07/2022