8 Reasons To Charter A Catamaran In The Whitsundays
Wondering why you should charter a catamaran in the Whitsundays? There are so many reasons, from the stability and comfort of the vessels to the local expertise of the experienced crew. Exploring the Whitsundays will never disappoint, but you can take your adventure to the next level by booking a private charter on your very own modern catamaran! Bring your favourite people on board and enjoy your own, tailor-made Whitsunday holiday. If you're still not convinced, here are 8 reasons to charter a catamaran in the Whitsundays!
---
8 Reasons To Charter A Catamaran In The Whitsundays
1. Catamarans are comfortable and smooth
The double hull of a catamaran boat creates extra space on deck! So catamarans have lots of areas for lounging, relaxing, eating, and sunbathing in addition to the cabins below. Also because of the double hull, catamarans have two points of contact with the sea, making them glide over the water much smoother than an average sailboat. Some catamarans have motors, some have sails, and some have both, so you can make the most of the weather and have a pleasant, efficient journey regardless of the conditions at sea.
---
2. Private charters offer an intimate experience
A huge perk of choosing a catamaran private charter over a standard tour is the exclusivity of the guests on board. When you join a tour, you are sharing your experience with other travellers. This is perfect for making new friends if you're a backpacker or a solo traveller. However, if you'd prefer an intimate gathering with just your own friends, family, or colleagues, then a private charter is perfect! You don't have to worry about sharing your space with anyone else besides your own guests and the crew onboard.
---
3. Design your own Whitsunday itinerary
Another reason to book private charters is the flexibility that they offer. While guided tours have a set itinerary, private charters have more options available. Because it's just you and your guests on board, you can often design your own itinerary and choose where you want to go. Your experienced crew will let you know which locations are best given the ocean conditions, and you can create a plan that is best for everyone.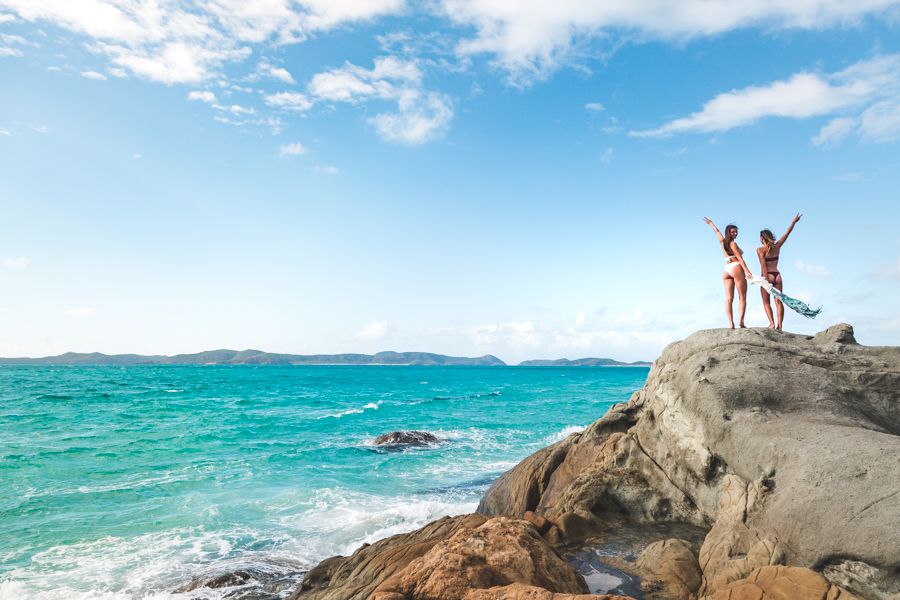 ---
4. Meet your incredible crew
Every boat in the Whitsundays has an exceptional local crew - it's a mecca of sailing in Australia so all the staff are extremely friendly, good-natured, positive, and knowledgeable. On a private charter, the crew is there to ensure you have an incredible experience. They will use their expertise on Whitsunday's geography, their knowledge of the ocean, and their knack for expert customer service to make sure your trip runs as smoothly as possible.
---
5. Enjoy delicious food and drinks
Most private charters come with catering! Whether it's included in the overall price or it's an additional upgrade, you can be sure that you're getting top-notch cuisine on board. With fresh ingredients and options to cater to dietary requirements, you'll have all the fuel you need during your trip. The crew will take care of all the food prep, cooking, and cleaning as well, so you don't need to worry about a thing! Private charters also come with either a beverage package add-on or they are BYO.
---
6. Try fun water sports
Chartering a catamaran in the Whitsundays means you'll have lots of opportunities to get in the water! With your own personalised itinerary and group, you'll have lots of time to make use of the included water sports and gear. Most private charters include snorkel gear, and many also include paddleboards, kayaks, or sea scooters. Have a blast frolicking amongst the marine life, gliding over the turquoise ocean, and checking out the unique coral reef sites of the fringing Great Barrier Reef!
---
7. Sleep in comfort
An overnight catamaran charter in the Whitsundays allows you to spend more time out at sea as opposed to a day trip. With multiple days and at least one night, you'll really get to immerse yourself in the natural beauty and serenity of the area. Whether you're in a shared accommodation or a private cabin, catamaran charters offer cozy beds where you can sleep peacefully at sea and let the gentle waves rock you to sleep. Some cabins have private ensuite bathrooms, and others have shared toilet and shower facilities. Either way, it's a pretty luxurious way to spend the night on the ocean!
---
8. Have the perfect Whitsunday holiday!
Overall, chartering a catamaran in the Whitsundays allows you to have your dream holiday. Visit the iconic Whitehaven Beach and snorkel in some world-class reef sites. Enjoy downtime and scenic sailing routes on your own private catamaran surrounded by your friends and family with no other travellers. Let the experienced local crew cater to your every need and supply you with fresh linens, delicious meals, and fun water sports equipment. Sleep in a comfy cabin, watch the sun rise and set over the Coral Sea, and really cherish every moment!
---